Anne Hegerty has revealed she wants to remain in the jungle until she gets voted off after an emotional start to I'm A Celebrity… Get Me Out Of Here!.
The Chase quiz master broke down in tears on her first night in the I'm A Celebrity camp, and immediately thought about quitting the show and returning home.
Anne confided in campmate Nick Knowles, saying she lay awake thinking of all the people she would disappoint by exiting the competition early.
The quiz show star said she has now changed her mind and does not want to leave camp until she is voted off.
She said: "I spent the first three days asking myself that and on the first night I lay awake all night crying just thinking what have I done.
"So I started to list all the people I was going to disappoint. Now I can imagine staying until I get voted off."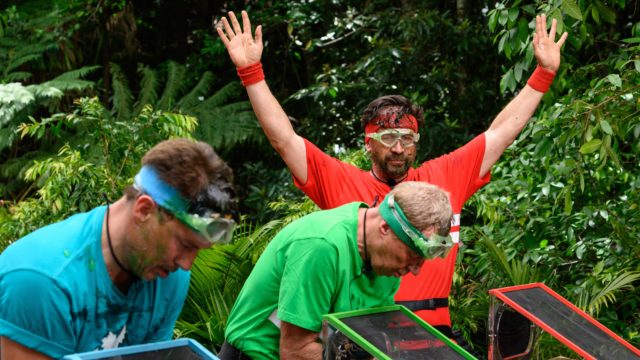 Read More: I'm A Celebrity fans horrified at Rita's legs
Hegerty said she felt cared for by Knowles, who has continually showed his generosity in the jungle, saying: "I think Nick has been keeping an eye out for me, he knows how tough I found it to begin with."
Both Hegerty and Knowles were left with rice and beans as the Immunity Games began, and despite Harry Redknapp coming third in the Deadly Dash, his team claimed enough points for a treat of bangers and mash.
Read More: Delighted Emily Atack reveals jungle weight loss in two-piece
Emily Atack sailed to victory on the boating lake, where Malique Thompson-Dwyer leapt overboard from his boat in order to forfeit the chance of food in favour of Redknapp's team. Rita Simons distracted herself throwing water and failed the challenge.
Atack said: "Yes we are all one big team but the team has split off now and I am team Koala and wanted to bring home the bacon."
Team Roos claimed victory on the first day of the Games, with only the leaders at the end of each day being entitled to food beyond rice and beans.
What do you think of this year's series of I'm A Celebrity? Leave us a comment on our Facebook page @EntertainmentDailyFix and let us know what you think.