Vogue Williams and Spencer Matthews have called their baby boy Theodore.
Model and television presenter Vogue, 32, and former Made In Chelsea star Spencer, 30, became first-time parents earlier this month.
They shared their son's name and first pictures with Hello! Magazine.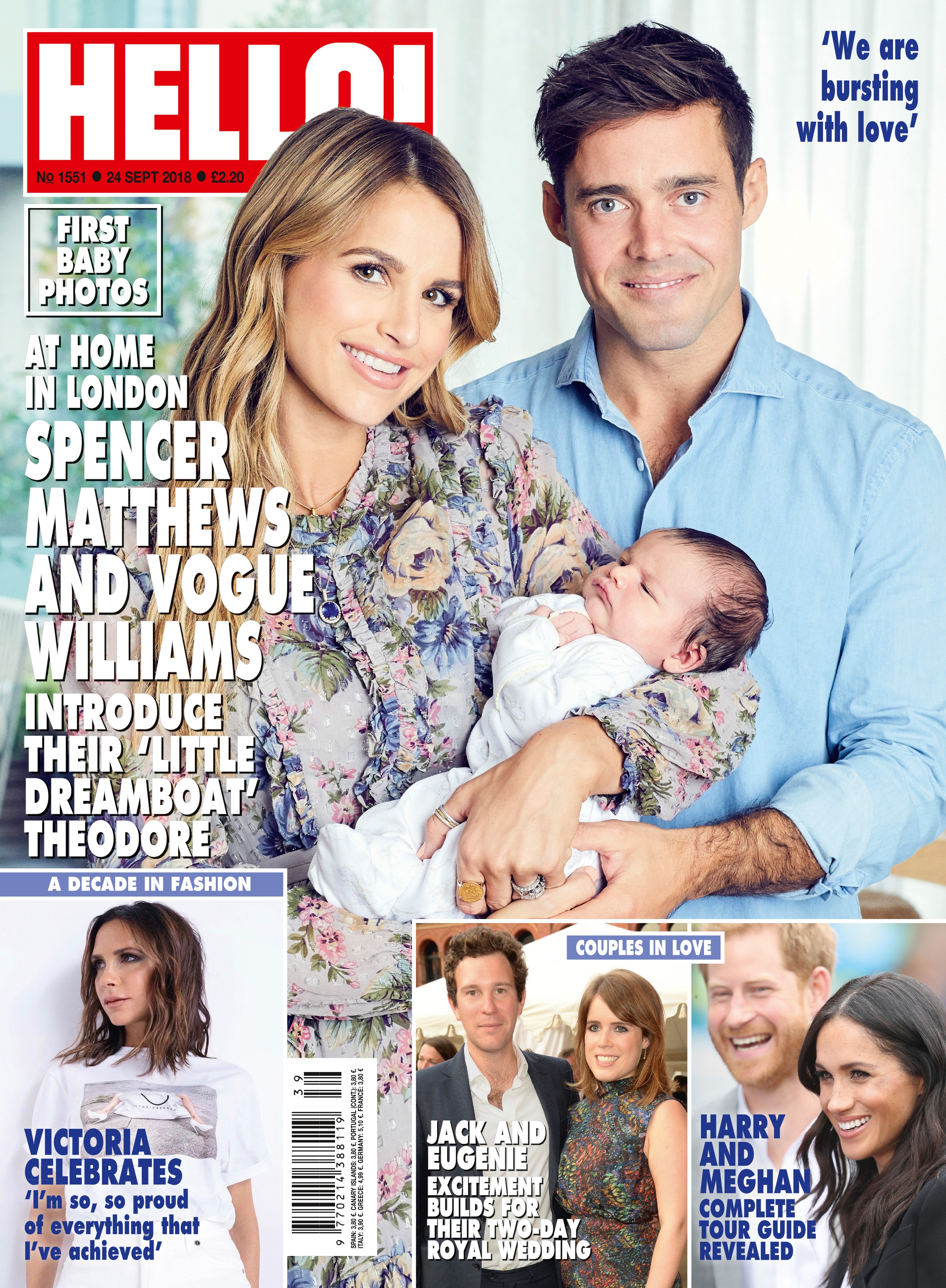 "We are bursting with love. I honestly feel like he has been here forever, he has just slotted into our lives perfectly," Vogue told Hello! magazine as she was photographed with her baby.
"We heard the name Theodore one day and both loved it.
"We thought we would call him Teddy but since he has been born we have stayed with Theodore rather than shortening it."
Read more: Spencer Matthews feels "blessed" to become a father
Vogue said of the newborn: "He is a mini Spencer. I remember seeing lots of dark hair, and thinking, 'That's just like his dad'. He has his dimples too, and deep blue eyes."
Spencer said the arrival "has exceeded all expectation of what I thought it would feel like to be a dad."
He said of the birth: "Obviously Vogue did all of the hard work and I have nothing but love and respect for how she dealt with it all in the most admirable way.
"I could not be more proud of her."
Spencer said of the prospect of having more children: "Perhaps we'd like three more. We can't wait to crack on and enlarge our family as much as we can. For now though I can't imagine life being better than this."
The full interview is in this week's Hello! magazine.
Vogue and Spencer have both promoted their photoshoot with Hello! via Instagram.
In a message to fans, Vogue said: "My whole world has changed with the arrival of our beautiful boy Theodore. The last two weeks have been the best of my life. I am loving every minute of being a mother, even the very sleepy wake up calls at night. Spencer and I have never felt love like it, Theodore you are our world."
Spencer added: "Our son Theodore is already nearly two weeks old!! Time really does fly when you're having the time of your life! Having a child with my wife and soulmate is nothing short of a dream come true. Feeling very lucky and absolutely LOVING fatherhood!!!"
Spencer and Vogue met while co-starring on Channel 4's extreme winter sports show The Jump in 2017 and became engaged in January when Spencer popped the question on stage at a production of The Lion King in the West End.
They announced their pregnancy just a few weeks later and married in June.
They initially kept their child's sex a secret before Vogue let slip on Irish TV she was expecting a baby boy!
Appearing on ITV's This Morning last month, Spencer had said: "I know it's bad to say, but I was kind of hoping the first child would be a boy so purely if you have girls afterwards, which we'd very much like to have, I always thought it's nice to have an older brother."
Spencer previously said his son's middle names would be Michael and Frederick.
"One of his middle names will be Michael after my late brother and one will be Frederick after her late father," he said.
Read more: Vogue Williams slams "nasty" comments about pregnancy body
Spencer's brother Michael tragically died while climbing Mount Everest in 1999. Vogue's father, Frederick, passed away in 2010.
What do you think of Vogue and Spencer's baby name choices? Leave us a comment on our Facebook page @EntertainmentDailyFix and let us know what you think!