Suranne Jones! There's a name we've not had the pleasure of writing about for a while. But that's about to be remedied, as we have exciting news.
The bloody marvellous actress is joining forces again with one of British telly's top drama writers, Sally Wainwright.
She has previously worked with Sally on ITV's top cop drama Scott & Bailey (RIP! Sob!).
Sally's also the creative brain behind BBC faves Last Tango In Paris and Happy Valley.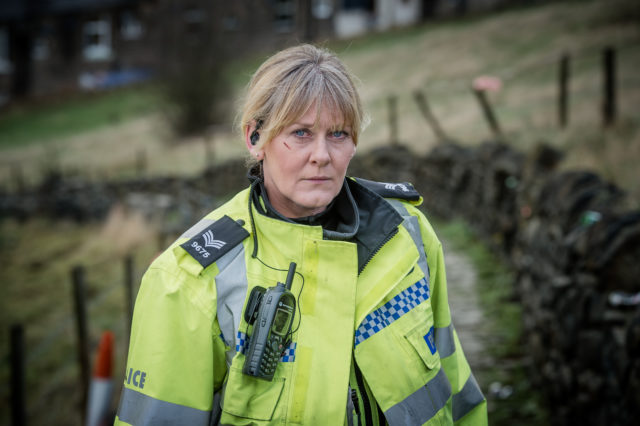 Earlier this month we revealed that the scribe was turning her attentions to a period drama.
The eight-episode drama, Gentleman Jack, is about diarist Anne Lister.
Sally has said her research for the new project is so detailed scripts are taking twice as long as normal to pen.
Arriving at the South Bank Sky Arts Awards in London recently, she said it has been a mammoth undertaking.
She told the Press Association: "It's been extraordinary. I normally allow a month to write a script.
"At the moment I'm averaging two months for one script because I'm having to read the diary in the original before I write the scripts and a lot of it is in code.
"I can read the code and it's not that complicated, it's what is called simple substitution cipher, so once you've got the hang of it, it's not difficult, but I've got to transcribe the code, transcribe the plain hand and turn that into drama.
"It's really good fun and really rewarding and I hope we are going to produce something extraordinary as a result, something unlike any other period drama for that very reason."
She added: "Anne Lister's diary is four million words long, I'm not using it all, I'm writing about her from 1832 onwards.
"But my only previous experience of period drama based on true lives I've had is To Walk Invisible (about the Brontes) so this is something new.
"I've been working on it for nearly 20 years, it's been in there a long time and hopefully that is good, hopefully I'm lucky it didn't get commissioned sooner, hopefully it's lucky I have had that time."
So, anyway, here's the exciting news about Suranne – she has been cast in the lead role, playing the "first modern lesbian".
Anne Lister was a Yorkshire landowner and the series, Gentleman Jack, will focus on her romance with wealthy heiress Ann Walker, who she met in 1832 and was determined to marry.
Suranne, 38, says: "I remember the feeling of reading her scripts. They were scripts for women – fresh, daring and bizarre in a wonderful, modern, fun, complex, challenging way."
And Sally says: "I am delighted to be working with Suranne once again.
"Bringing Anne Lister to life is an epic challenge."
Of course, with Sally being so preoccupied with Gentleman Jack, it  means Happy Valley fans won't see a third series of the police drama for some time.
Sally said: "It's not been delayed but it will feel like a delay to the audience."
It already feels like an eternity since the second series ended!
She continued: "But we always talked about there being dramatic value in there being a gap between the second series and the third for reasons that will become apparent in the narrative when you see it."
Oh, well, at least it sounds like we are in for something special when it does eventually land on our TV screens.
Suranne starts filming Gentleman Jack next year. But we will get to see her sooner than that – the second series of Doctor Foster, the BBC smash hit, arrives this autumn.
We need a lie down, the excitement's TOO MUCH.