Harry Redknapp's wife Sandra was rushed to hospital when she was dragged along the road in a freak accident.
Now, Harry has picked up his wounded wife from a London hospital, which looks like the same type of vehicle she was injured by.
Bit soon Harry don't you think?
A source told the Evening Standard: "She's had an operation. It doesn't appear anything has been broken, it may have been ligament damage.
"She's being monitored. The bang on the head is said to be superficial damage, so nothing serious.
"Harry is low but relieved as it could have been worse."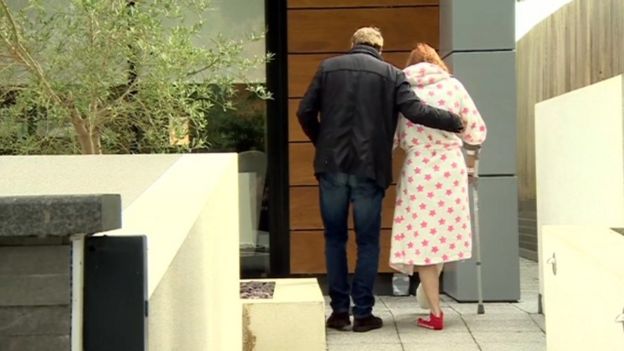 Speaking to the BBC, Harry said: "It was just a freak accident you know.
"Sandra went across the road and unfortunately she had gone behind the car to cross over the road and as I went to drive off I drove over her ankle.
"Its lucky, if the full weight of the car had gone over the ankle god knows what would have happened to her. We're ok.
"She had an operation on her ankle that went well."
The former Premier League manager was dropping his wife off at the shops when her foot and coat got caught in the Range Rover as he pulled away.
Horrified onlookers in Bournemouth explained that Sandra, 69, screamed in pain as Harry ran over her foot and dragged her along.
He had slammed on the brakes, but Sandra's foot had been seriously injured and she was bleeding heavily.
A witness said: "There was a lot of blood on the tarmac and Harry was beside himself."
Another said: "I was in a shop and a couple of people came in and said, 'Crikey, there's a lady who's been dragged along the road'.
"Then someone else came in and said it was Harry Redknapp who had just dropped his wife off."
Read more: Shayne Ward 'embarrassed' by sex clip!
"I heard as he drove off she got her coat caught in the door. She was dragged along the road before he realised.
"I think she's badly injured."
A shopper added: "I was told Harry pulled up to let his wife out but before she had completely got out, he went to pull away and she fell over.
"He moved his car out of the way so the ambulance could get to her and then he got in the ambulance with her.
"Everyone was talking about it, at first people thought he had hit a pedestrian and then we realised it was actually his wife."
Read more: Scotty T reveals what really happened with Katie Price
Sandra is said to have had surgery on her foot and Harry was by her side while she recovered.
A friend of Harry's said: "Sandra did have an accident and was taken to hospital where she had an op.
"It's a long story, but she should be OK."
We are so glad.