EastEnders viewers will see Lauren Branning's life start its downward spiral as her jealous sister considers outing her secrets.
Abi (Lorna Fitzgerald) has been getting increasingly frustrated about living in the shadow of her seemingly perfect sister, Lauren (Jacqueline Jossa).
But when she realises that Lauren's shady boyfriend Steven Beale (Aaron Sidwell) is having doubts about her loyalty, she begins to wonder whether this could be her chance to bring her sister down.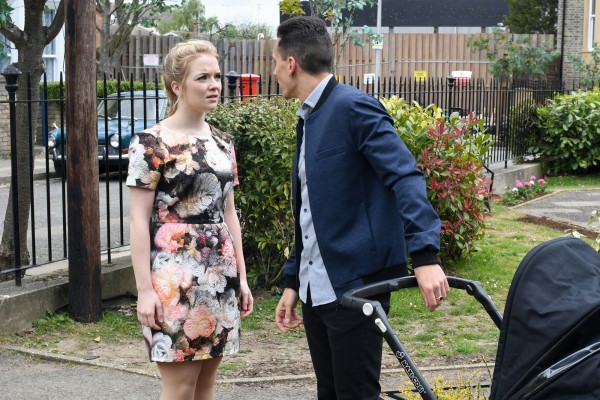 These first-look pictures show Abi approaching Steven in Albert Square – but will she be able to tell him about Lauren's secrets?
Fans of the BBC soap have recently seen Lauren kiss her boss Josh Hemmings (Eddie Eyre) who has developed feelings for her, but the relationship is complicated even further by her unplanned pregnancy.
She was tricked into getting pregnant by Steven sabotaging their contraception, but does not know what her boyfriend has done and so has been keeping her pregnancy and plans for an abortion secret.
We hope not, as it will throw a right old firework under Lauren's life.
Regular visitors to Walford will know that her boyfriend Steven is beginning to display sociopathic characteristics.
As well as secretly pricking condoms to successfully get his girlfriend pregnant, he is now tracking her with a device on her mobile phone – and this can only mean VERY BAD THINGS if Abi spills the beans about the baby and abortion.
Meanwhile, The Sun is reporting that Jacqueline Jossa has just renewed her contract with the soap.
And let's face it, the way Lauren's storyline has been going of late, this is reassuring – we were thinking there was every danger she might depart.
And perhaps not of her own choosing…
Jacqueline, who is set to wed partner Dan Osborne in a few weeks, has recently spoken of her future at EastEnders, under new show runner Sean O'Connor.
She said: "Sean has really changed the way we all work. I know there is something big coming up.
"But we don't get told what's going to happen in advance and only find out once we read our scripts.
"It's a great way to work as we get the shock factor."