Chris Evans and wife Natasha Shishmanian have named their newborn twins Walt and Boo.
The couple announced the arrival of their baby daughter and son on Chris' BBC Radio 2 Breakfast Show on Thursday, when it was guest hosted by Sara Cox.
They had affectionately nicknamed the children 'Ping and Pong' throughout Natasha's pregnancy, leading to confusion among some fans who thought those were the twins' actual  names!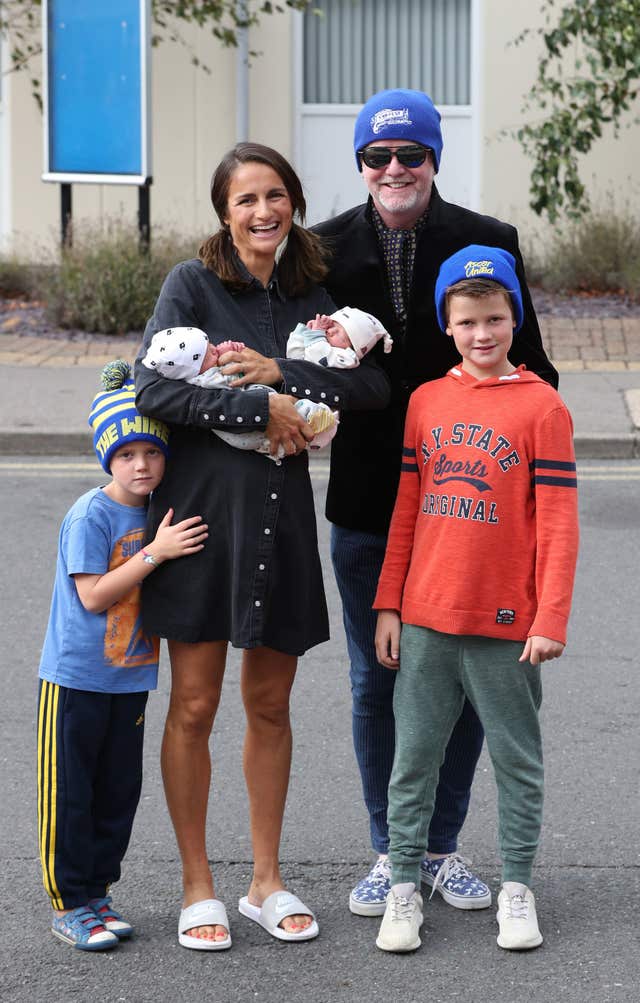 However, Chris confirmed on his return to his BBC Radio 2 Show on Friday morning that the twins are called Walt and Boo.
Chris told listeners: "Right now, we're talking about babies. Boo and Walt," adding that the names were not short for anything.
He said he had slept on the sofa and thinks he might be there for some time yet, but said the family were "massively over-excited".
"Mum doing very well, babies are splendid, sparkling. We are beyond blessed," he told his listeners.
Later his wife was on the phone, saying: "Hi baby!"
Evans replied: "You're on the air babe, is that OK?"
"Yeah great!" she said.
Asked how she was, she replied: "Everything's more than OK. I have four children in my bed right now."
Chris and Natasha shared a statement, read out on air, on Thursday which said: "Ping and Pong arrived safe and well last night. Ping popped her head out at 22.10, Pong popped his head out 12 minutes later at 22 minutes past 10. Both healthy, both strong, happy and blessed, as was mum throughout.
"Infinite thanks to the amazing team at Frimley Park Hospital, amazing people, amazing professionals, helping dreams come true. Thank you."
Read more: Chris Evans shares joy over wife's pregnancy
Listeners were quick to send their congratulations to Chris and Natasha on the happy news.
Some, however, were a bit baffled by the babies' names, thinking the nicknames 'Ping and Pong' were their actual, real names.
One wrote, "He didn't seriously call his children Ping and Pong did He?" while another said: "Well my kids think I'm eccentric but Ping and Pong really?"
A third added: "Imagine being called Pong! Or Ping for that matter! I hope it's a joke and that Chris Evans is winding us up!"
A fourth wrote, "I hope Ping and Pong are just temporary names before they come up with something sensible," while a fifth said: "Wait someone named their twins PING & PONG???????????"
Regular listeners to Chris' show, though, will know he's affectionately been calling the babies 'Ping and Pong' throughout Natasha's pregnancy.
One pointed out on Twitter: "They aren't called Ping and Pong. This is just what they've been calling the unborn babies as a bit of, you know, FUN!!"
He's yet to announce the twins' real names.
At the beginning of the show, Sara joked she was the new host.
She is rumoured to be in the running to replace Chris, who is leaving the flagship programme to return to Virgin Radio, though Zoe Ball has reportedly been offered the job.
As she introduced the programme in Chris' absence on Thursday, she said: "Well here we are then, welcome along to the show. My name is Sara Cox, we never thought we would get here, this is your brand new Radio 2 Breakfast show and I just want to say I am so thrilled. I would like to thank my mum for her support…"
Read more: Chris Evans to leave BBC Radio 2
She then broke off and could be heard speaking to someone in the background, saying: "Just one day? Oh." The show then cut to music.
Chris and Natasha married in 2007.
As well as the twins, they also have sons Noah, nine, and six-year-old Eli.
Have you any name suggestions for Chris and Natasha? Leave us a comment on our Facebook page @EntertainmentDailyFix and let us know what you think!