A streaker interrupted the Eurovision song contest final in Ukraine.
The stage invader, wrapped in an Australian flag, took to the stage during a performance by last year's winner Jamala, and bared his bottom.
He was wrestled off the stage by a security guard as the singer continued to perform.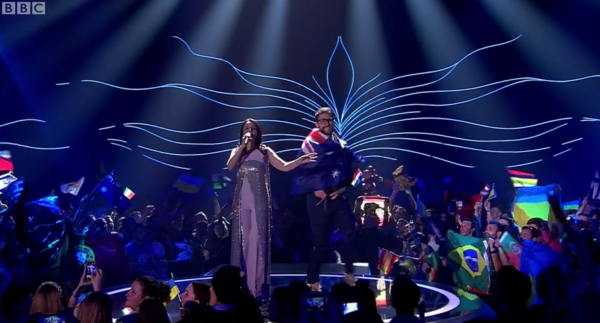 The prankster sneaked on to the stage pulled down his shorts and wiggled his bum at the cameras during the eight-second escapade.
Read more: BBC defends decision not to air proposal
He was then seen being ushered away from the crowd by several security guards.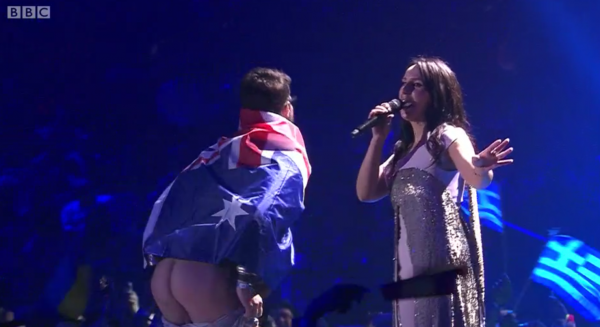 Jamala, who swept to victory in Stockholm last year with her song 1944, was returning to the Eurovision stage during a break between the final performance and the beginning of scoring.
A similar incident occurred at the 2010 competition in Norway when the Spanish entry had to perform for a second time following a stage disturbance.
Dressed in a hat to match the backing dancers' distinctive outfits, an impostor reported to be Barcelona fan and sports event invader Jimmy Jump joined in the choreography before being removed by security.
Graham Norton, who was guiding UK viewers through the contest on BBC One, apologised to anyone who was offended by the invader.
Earlier, Graham paid tribute to former Eurovision host Terry Wogan, urging viewers to toast the "late, great" Sir Terry Wogan.
Read more: Ant and Dec choose their Golden Buzzer act on BGT
Sir Terry, who was the show's commentator for almost 35 years, died last January.
When Graham took over the reins in 2009 Sir Terry had advised him, "don't have a drink before song nine".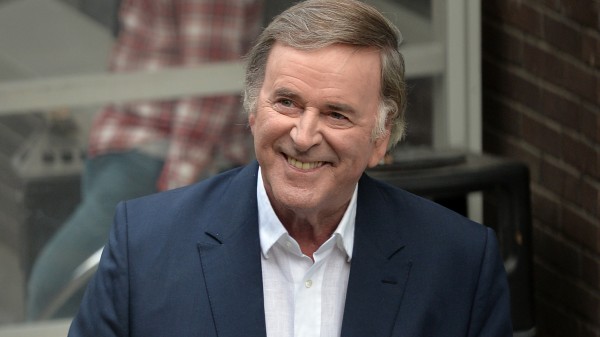 Following this year's ninth performance – Hungary's Joci Papai – Graham said: "Last year we started a mini-tradition, so if you do have a drink in front of you, be it a wine, a beer, vodka, cocoa or tea, or just a glass of water, why not raise it with me now and toast the late great Sir Terry Wogan.
"The man who is, and always will be, the voice of Eurovision."